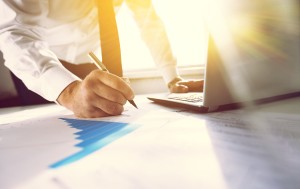 Geoff Stecyk became RAKBANK's Chief Operating Officer in June of 2015. As a COO of a bank, you are entrusted with a myriad of different responsibilities. It's a difficult job but it can be very rewarding. If you have aspirations of becoming a COO, there are many different career paths. Today, Geoff Stecyk will put to rest some misconceptions about the ideal career path and highlight traits that make a person appealing for the bank COO position.
In most cases, the COO role is defined by the ability to balance between multiple internal issues and external issues simultaneously. This frees up the CEO to focus more on external strategies that will help grow the business. A COO must be respected by the entire team and entrusted to lead by example. In order to be a strong COO, a person must have the ability to enable their peers at the office.
The education of a COO can vary. Does it help to have an MBA? Yes, but it is not a requirement. The COO truly earns their role by working in a number of different positions in the bank. Operations and Technology experience is a must. A COO needs to understand all of the different processes that departments in the bank utilize. Having firsthand experience in different departments will help a COO understand the needs of the employees who rely on their expertise. In order to be elevated to COO, a track record of excellent work must be shown. Putting a strong emphasis on quality and accuracy in every task ever assigned will serve them well.
One common misconception about COOs is that they need to know the ins and outs of the financial sector. The truth is they need to have an understanding of the complexities of revenue and expense for the bank, but beyond that, they just need to be able to communicate well with the financial experts at the bank.
The best way to make yourself appealing for a COO position is showing your ability to collaborate successfully with others. The best COOs have a personality type where they are concerned with ensuring that the people around them succeed then they are about getting personal acknowledgment. If you find yourself enjoying putting people in a position to succeed, you should definitely consider making a COO position your career goal.