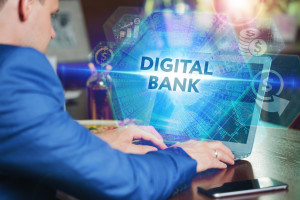 While more and more industries are utilizing technological services to optimize their business, the banking industry is no different. It's been an interesting year for banks from a technological perspective. This year, we saw bank branches convert to more digital formats and the roll out of more efficient strategies for mobile banking. Before the ball drops on 2016, Geoff Stecyk, COO of RAKBANK, wants to take a look ahead at the future of banking in 2017.
Data Driving Money
As online shopping has increased, so has the need for understanding digital consumer trends. Collecting the data behind shopping patterns and habits has helped to drive online retailers in pushing advertising to their specific target market. That same technology can now be applied to retail banking. In 2017, expect to see banks utilize more data-driven money management. These are solutions based upon your interests and habits, to help better tailor your financial experience. More banks, financial institution and insurance companies are set to roll out their suites of data-driven management.
Biometric Safety
Companies like Samsung and Apple have long since adopted the technology of using biometrics in ID verification. Fingerprint scanning to unlock your phone has been available for years. Now, the banking industry has considered implementing this same technology for similar purposes. As fraud is becoming a more prevalent disruptive force in the banking industry, biometric verification is becoming a more appealing option for security. These methods of authentication will help add an extra layer to safeguarding your financial assets.
It's clear that we are heading into a highly tech-driven banking experience in the upcoming year. With 2016 coming to a close, Geoff Stecyk believes it's time for the financial industry to look ahead to the emerging trends in banking for 2017 and embrace them.